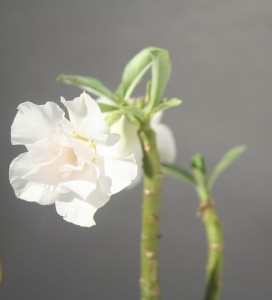 This is a great example of a triple layered pedal grafter adenium plant from Thailand. This one was imported to the USA four months ago.This adenium flower two months ago and shows a great medium size flower with a very slight pink tone in the center pedal layer. Notice the shape of he pedals and the even distribution.  this plant will be available in very limited quantities in December once the AdeniumRose Company site is ready.
Grafted adenium plants received from Thailand are plant and grow in |South Florida  for at least 3 months before they are released released for clients in ensure quality of plant an flower.  AdeniumRose  Company received 14 of these white flower with slight pink center adenium plants with caudex size of 3″ to 4″ across.  Since this adenium, desert rose plant the common name, flowered it has fully leafed out and increased in size. All the adenium plants received are in great shape and growing fast in the open (not under lights or cover). growing the grafted plants in the open in full sun light makes them stronger and gives you the assurance that adenium plant you received is very healthy.
Continue to visit this blog for more photos and tips on caring for adenium plants. If you are in the south Florida area look fro announcements soon concerning the farmers markets locations that will be offering our these grafted adenium, desert rose, plants. Have a fantastic Thanksgivings!